Is Nintendo Switch Worth It? Well Explained in 2023
The Nintendo switches have always been popular because of their advanced technology ever since they have been released. Because of that reason, they are the fastest-sold switches as compared to other console boxes.
But there is a reason why people have started to ask "is the Nintendo Switch worth it?" before buying a Nintendo Switch.
It's that ever since the switch is released into the market, the manufacturers of the switch didn't make any improvements in their technology. It's the same as it was when it was released. While on the other hand, their competitors who are manufacturers of other consoles have made so many updates to their software and hardware.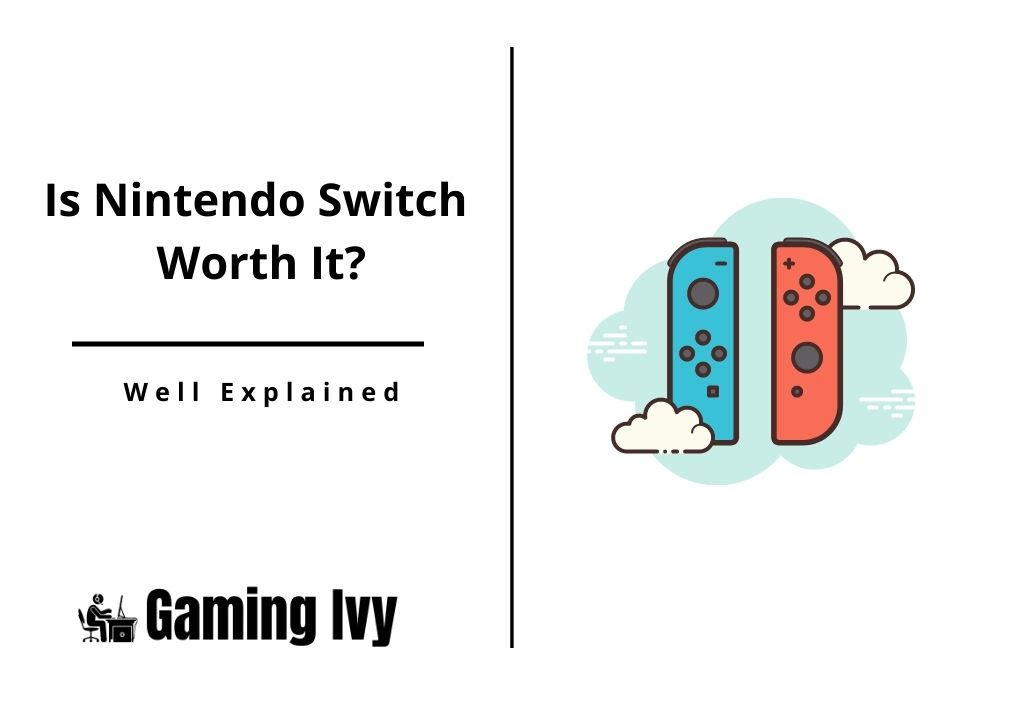 But in this article, we will tell you some reasons why Nintendo switches are still worth buying. So, keep on reading this article to know all the reasons why you should buy it.
Is the Nintendo Switch worth it? Some good reasons
Here are some of the reasons why it is still worth it.
Elongated support system for the switch
It's been five years since the current model of the Nintendo Switch was released. And that old switch is somewhat mature because all the previous models of the Nintendo switches were replaced by the Wii U and the 3DS. And it took them five years to accomplish such achievements. But now their other competitors like Sony and Microsoft have also replaced them with their consoles.
Even though the competitors were also very strong but still it took Sony and Microsoft eight years to do that. After all, nobody ever wants their console to get outdated right after a year or two.
Therefore, Nintendo has announced that they won't launch any latest models of the current Nintendo switch. They said that moving on to the latest hardware of the Nintendo switches is their biggest challenge and they're focused on it. But they don't foresee this to be happening soon. Hence, you can buy a Nintendo switch in 2023 for sure.
Easily sharable with friends
Nintendo Switch is the best option for you if you want to play with your friends. It lets you share your gaming enjoyment with those who are your loved ones. The switches have Joy-Cons in them that are detachable just because of the reason that they are to be shared. You just have to take them out and give one to your companion/opponent and play all the games easily. These controllers are sold in a pack of two in the market so you don't really need to buy two separately. When you pay for one pack, you buy two controllers while paying for only one, and that's a great deal in all aspects. Beware that the switch Lite does not have its Joy-Cons detachable.
Nintendo Lite is extremely portable
The regular Nintendo switches are smaller in size and they have very lightweight. But some of you who want to play at their home and sometimes in the park or at a coffee table in a college canteen with friends. So, if you want that kind of portability, then you will have to go with the Nintendo Lite switch. Because it has all of such features that someone with demands like this want.
This switch has a competitor too and it is the powerful Steam Deck by Valve. This console is mostly similar to the Nintendo's switch in almost all aspects but still, it's not as portable as Nintendo. But there is something that this switch lacks in, that it does not have any detachable Joy-Cons.
Furthermore, this switch is not intended to connect to the TV because there's no HDMI port in it. But don't worry about its performance because it delivers the same performance as the regular ones. But a little bit cheaper because of its some limitations.
Also, some games aren't available for switches that are handheld hence; make sure to not spend a single penny on something like that. Overall, even when this switch has so many drawbacks, it is still worth buying because of its other benefits.
Huge collection of different genres of games
When you see so many advantages of such a switch, you keep raising your expectations. Something like it would have this and that also but do trust our words that none of these advantages matter. Literally, none of them really matters because the one main thing important for all gamers is how many and which types of games it has.
If your console box has all the types of games, it will be the best thing for you even if it doesn't have anything else. That's why the collection of all the games with all the genres of games is very important that will make it a successful product. Hence, this is a well-made product having all the gaming genres to cater to every kind of gamer's needs.
Additionally, the official Nintendo and some third-party game publishers continue working on the games. They always release all the latest games for letting you enjoy them as much as you can.
There is continuous improvement in Nintendo's online presence
Nintendo knows its worth and that's why they are still working on its products. Like the Nintendo Switch online service is still improving even since it's been launched. It's because they were like a flop application back in 2018 in their debut because it didn't have any of the most important functions. But then Nintendo started taking good care of it and now it is the most valuable thing all along.
Read More:
Is Airpods Max Good For Gaming?
Is 2.6 GHz is Good For Gaming
How To Underclock Your GPU
Final verdict
Nintendo is not going to be replaced any time soon. And that is like a big plus for you if you ask about is Nintendo switch worth it?
Although there are other benefits too of this powerful switch for us it's the huge collection of games. Games are obviously one of the major factors in someone's decision of whether to buy them or not.