Is Macbook Air Good for Gaming? What's the better option?
Apple has so many products in their product catalog but the MacBook Air is the cheapest laptop they offer. This laptop has ordinary hard disks and processors and that's why it is only good for those who are school students or office workers. It cannot handle any processor-specific or graphics-specific tasks.
This article is going to tell you the answer to this question is the MacBook air good for gaming? With complete details of why it is suitable or not suitable for gaming. So, please read the complete article before concluding because there's so much still to know.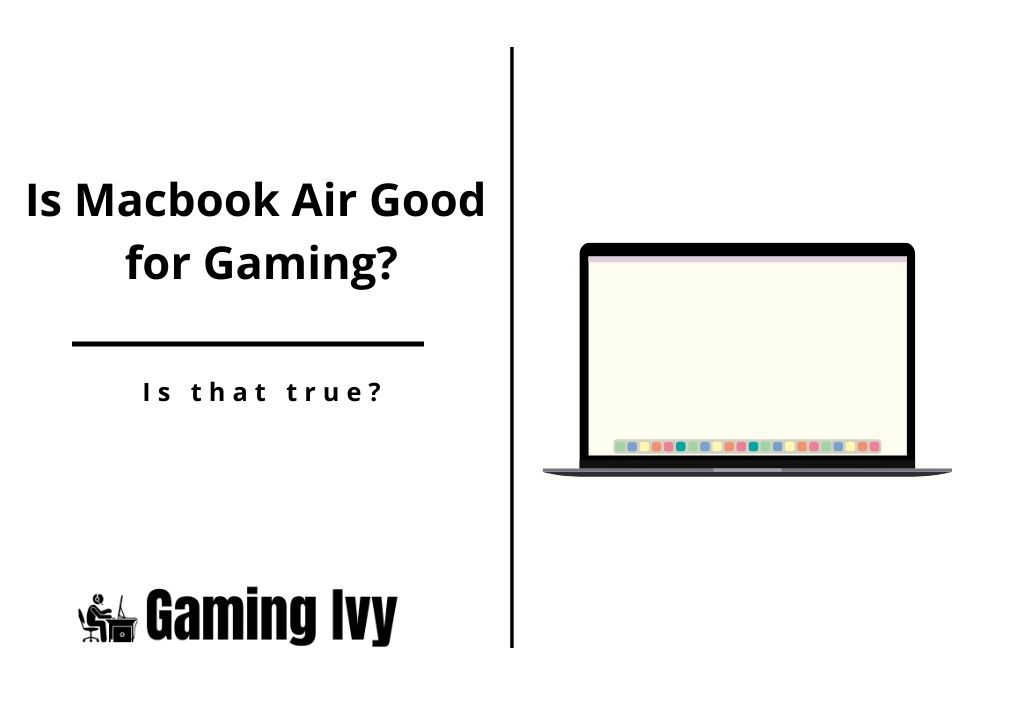 Is Macbook Air Good for Gaming? Details about its design
MacBook air whether it is an old MacBook air or the new one, they are both not made for heavy gaming. Even though the new MacBook Air has an M.2 chip installed already but this laptop is not designed to process heavy games. It's because it does not have enough processor or GPU to support such heavy processing and so heavy graphics.
But, there is no restriction on playing simple light games on your laptop. You just have to avoid serious component involving gaming on it. Although, you can keep it in your bag and take it with you easily wherever you want. But that's just because of its thin design and very lightweight.
The 2020 model of this laptop has an 8-core graphics processing unit but it only runs lighter and basic games on low settings. You cannot adjust its settings too high or even medium because of its lesser abilities and lack in processing the graphics.
But no need to worry about its performance in other tasks because it can easily perform great in daily routine tasks. Almost all office-related tasks can be completed with this laptop easily. Its latest models are coming with more advanced features like the 2022 model of the MacBook Air has a 10-core GPU.
That means this model of the MacBook Air is still better than the old ones but this MacBook air is still not good for gaming. In short, you can play some light games on this laptop on not only low but medium settings. But this is it for a non-gaming laptop, there's nothing more it can do being an office work laptop.
Reasons we don't consider MacBook Air a better option for gaming
Professional gamers know that the MacBook Air of the latest models comes with either an M.1 or M.2 chip. They are pretty good at performing other speed-requiring tasks, but they are not well-equipped for heavy gaming. It's because their chips don't support heavy graphics rendering and processing. Hence, considering the MacBook Air as your main serious gaming laptop is not an option at all.
Other than smaller problems, here are some of the major problems in serious gaming on a MacBook air. The MacBook air doesn't have any dedicated GPU in it to support the game's graphics. Also, there are no fans to cool the system when it gets hot, as well as the unfriendly keyboard for gaming is also a big problem. Overall it will be a flop experience gaming on such a laptop.
What is the MacBook air good for?
Even though we are continuously telling you about what it is not good for, there are still so many things you need to know. MacBook air is good for travelers because you can take it with you anywhere you want and its lightweight and slim design are very convenient.
Also, the MacBook Air is great for performing office tasks like running the office software and making reports. It can handle web browsing and streaming tasks very easily as well as some heavy software like Adobe Photoshop. Other software like the VLC and other multimedia software is not a big deal for such a laptop that is equipped with a fast M.1 or M.2 chip.
If you are fed up with having to charge your laptop after every 4 to 5 hours, then this laptop is very convenient for you. Because its battery lives up to 18 hours straight on medium processing. Its weight is just 2.8 pounds while the screen size is only 12×8.5" so that makes it a great laptop for office workers as well as travelers all along.
Its 13.3″ specially designed retina display is great for watching movies and other stunning visuals. This lightweight laptop looks like a premium and very expensive laptop and the silver and space grey color variations are the cherries on top.
The device is well-equipped with components like the M.1 chip for performing somewhat heavy tasks like light video and photo editing. Not only that, the laptop is great for coding because it renders and processes all IDEs and required utility software easily.
Hence, those who are students and planning to buy it to study or those who want a machine to work from their home both type people can buy it for almost all their needs.
Read More:
Conclusion
We have tried our best to let you know the answer to this famous question, is MacBook air good for gaming? Now we know that you know enough to easily come to any conclusion so make sure to choose the best option for all your needs. Also, the need for a MacBook air will become lesser if you do your own complete research and look for other options.
Pro Tip: Always read the laptop's specifications carefully before making any purchase or read the user manual before upgrading any component. This is necessary to read the user manual so that you don't waste your money on buying the wrong items that are not even compatible with your laptop's capabilities.
Overall, you can play some older games on this laptop but not the newer ones with heavy graphics. The games specially developed for Apple's new silicon chip also run on this laptop pretty well.