Is Airpods Max Good For Gaming?– Answer by Pro Gamers
Airpods Max was released in December 2020 and has gotten a lot of buzz in the gaming market since then. Many gamers want a fantastic pair of headphones, but they're worried that using Bluetooth headphones for gaming will cause a delay.
This raises the question of whether the apple Airpods Max is suitable for gaming.
If you use the original Airpods pro max as a tethered connection instead of Wi-Fi, they're great for pc gaming. This eliminates any delay difficulties that a wireless connection may have.
This article will go over some details about the Airpods Max to help you decide if they're right for you, especially if you want to replace your current gaming headset.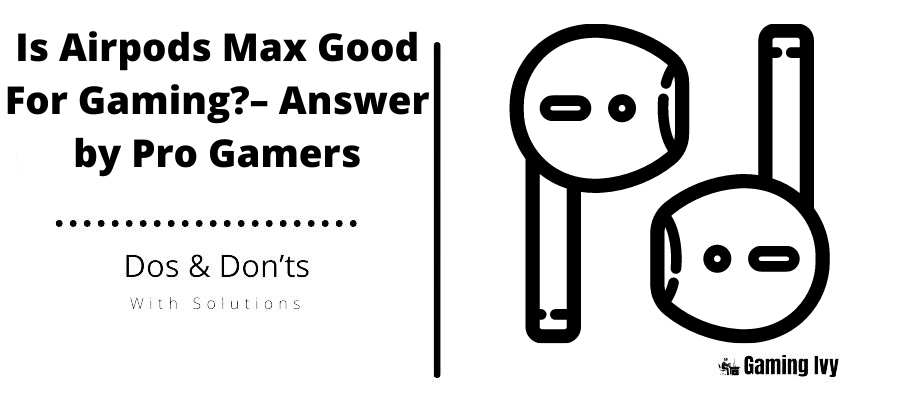 Is Airpods Max a Good Choice For Gaming?
There are mixed reviews on whether the Airpods Max is a good gaming choice, as some users report experiencing latency (or a delay) among their PCs and headphones. However, the number of people who perceive a delay is significantly lower than the number of people who like using the Airpods Max for gaming. You can connect AirPods max wireless with your device. Airpods max has a good active noise cancelation function.
Furthermore, there is a solution to avoid the delay issue by pairing the Airpods Max with a physical connection rather than wireless. If you don't want to deal with latency, you can buy a Lightning to 3.5 mm Audio Cable and use your Airpods Max wired instead.
This will eliminate any latency issues and make them as good as any other gaming headphones on the market. Continue reading to get answers to some of your queries regarding using these earphones. This article will cover connectivity, sound quality, price, and a few other subjects that you should be aware of before purchasing!
Composition Of The Headphones
The Airpods Max features a stunning design and is well-made in general. These could be the new headphones for you if you heavily rely on the build quality of your buy.
First, the headphones' headband is built of stainless steel wrapped in soft material, and the top of the headband is a mesh canopy.
The mesh on the top of the headband, according to reviewers, makes the headphones seem incredibly light on your head, and the headband feels like it is "barely there." This might make them comfy for gaming, especially if you play for long periods.
Nothing is worse than wearing hefty, unpleasant headphones when you're trying to relax and game.
The memory foam ear cups include a mesh layer on the outside that allows you to breathe. A set of breathable headphones is a must-have for gaming, as hot ears may quickly become uncomfortable.
These padded ear cups are easily detachable and removable, ideal for cleaning out any dust that may have collected under the cups.
A digital crown on the headphones controls volume and playback. Similar to the digital crown on an Apple Watch but larger.
The button that switches between noise canceling and transparency modes is the only other button on the headphones.
Overall, the headphones are well-made and have a slim design.
The headphones can be charged via a USB/USB-C to Lightning Cable. And when placed in the carrying case, they automatically fall into power-saving mode.
Connecting To Your Gaming System
If you plan on doing some Computer gaming and your computer has built-in Bluetooth, connecting your Airpods Max to your pc will be quick and straightforward.
If your PC doesn't have a built-in Bluetooth connection, you'll need to buy a Bluetooth adapter or a Lightning to 3.5 mm Audio Cable to use your headphones wired rather than wirelessly. These Bluetooth dongle adapters can be found at various electronic outlets for different prices. Even the most basic model should be sufficient to link your headphones to your computer.
If you want to use the headphones wirelessly with the Xbox series X, you'll also need a Bluetooth adaptor. The adapter may be directly inserted into your Xbox, and the connection should be quick and straightforward.
It may be a little more difficult on the PS5, but it is still viable.
You'll need to connect the Bluetooth adapter to your TV. And then you'll be able to activate your Airpods Max with your TV audio, allowing you to listen to what's going on with your PS5. This procedure is also applicable to the Nintendo Switch.
Sound Quality
The Airpods Max features superb sound quality and is highly sharp by users. They also offer high-quality noise suppression. This is ideal for gaming because it allows you to fully immerse yourself in the game without being distracted by surrounding noise.
The Airpods Max appears to perform better than high-end Bose noise-canceling headphones for powerful, low-frequency rumble (think airplane). Not that you'll be gaming on a plane too often…
However, if these headphones can block out airplane-level background noise. They'll be a fantastic choice for blocking out noisy neighbors or roommates, as well as the city's loud noises.
The Airpods Max also offers a Transparency mode, which allows you to disable the noise cancellation feature. This is a valuable feature even when it's turned off. You can still hear what's going on around you while playing your game – ideal if you're cooking or keeping an eye on your children or siblings.
Apple products have apple music built-in function and spatial audio / good sound for music lovers.
Price
The Airpods Max is priced at USD 549, which may come as a shock to some. This appears to be a relatively high price compared to some other noise-canceling Bluetooth headphones on the market.
The judgment is still out on whether the headphones are worth the money. But we know that Apple products are generally more expensive than their competitors. Apple products, on the whole, are well-made and endure an extended period.
It's difficult to determine how well the Airpods Max will hold up over time because they've just been on the market since December 2020.
Apple products, in general, last a long time. And it's not unreasonable to believe that you'll keep these headphones for at least five years – if not much more.
Read More:
Is the Airpods Max worth it in general?
The Airpods Max may not be worth it if you're searching for a set of headphones solely for gaming. They're a terrific, well-made pair of headphones with a lot of functionality.
Final Word
However, if you're only going to use them for gaming. It might be more cost-effective to acquire a cheaper pair of headphones that you can keep at your desk for those times when you're gaming.
If you plan on wearing the Airpods Max for various activities such as listening to music, watching TV, and gaming, only then are they well worth the money. Because the Airpods Max is more expensive. It's probably worth it to make use of them for a variety of purposes.
However, gaming headphones perform well and are sure to become a new favorite for gaming and other applications due to their high-quality design and improved sound quality.
If you learned a new thing about are Airpods Max good for gaming? Today, then please don't forget to share this article with others. If you have any questions or suggestions for us. Please feel free to write them in the comment section down below.
Thanks