How to transfer games from HDD to SSD?
If you bought an ultraportable laptop in the previous several years, the primary boot drive was almost certainly a solid-state drive (SSD). Bulkier gaming laptops have also switched to SSD boot drives, with a small percentage of budget devices that use hard drives (HDDs).
In the meanwhile, save for the cheapest versions, boot discs in prebuilt desktop PCs are mainly SSDs currently. A desktop may come with both, with the SSD serving as the boot drive and the HDD serving as a larger-capacity storage supplement.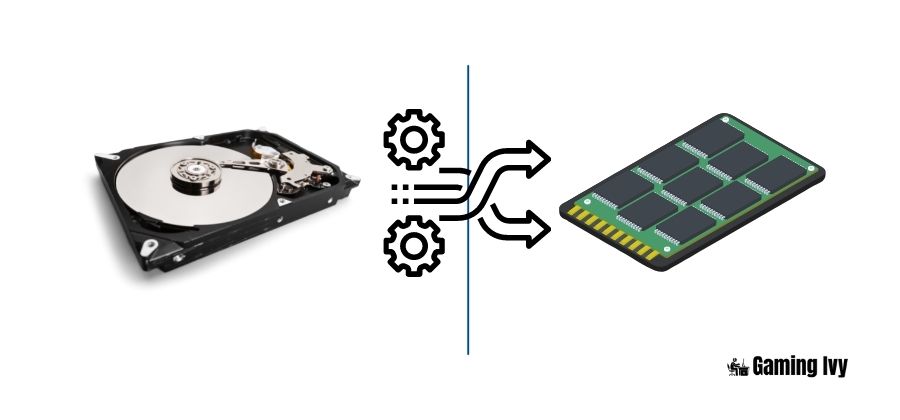 Here a question arises what are HDD and SSD in laptops?
Difference between HDD and SSD Explained
A hard drive is typically a non-volatile storage device that's used for storing data. It doesn't "go away" when you turn it off. Its metal platters are equipped with a magnetic coating.
An SSD is a type of solid-state drive that retains data on interconnected flash memory chips. Unlike USB flash drives, these devices are more reliable and are generally faster.
SSDs are typically smaller than hard drives, and they can be used in place of traditional hard drives. They can also be mounted directly on a PC's motherboard. M.2 SSDs are typically used for this purpose.
Aside from internal drives, there's also a wide range of external storage devices that can be used in various configurations. They're typically housed in either a desktop or compact form factor.
Advantages and Disadvantages of SSDs and HDDs
·    Hard drives are still available in less expensive and older systems, but SSDs are now more common in standard systems and high-end laptops like the Apple MacBook Pro, which doesn't even have a hard disk option.
·         Desktops and lower-cost laptops, on the other hand, will continue to include HDDs for the foreseeable future.
·         Both SSDs and hard drives, however, perform the same function: they start your computer and store your apps and personal information.
·    However, each form of storage has its distinct characteristics.
How to Move PC Games to a Different Hard Drive?
If your hard drive runs out of space, you can move your PC games to a different drive. Here's how to set it up for your favorite game client.
SSDs have grown in size, but games have grown in size as well—Call of Duty: Modern Warfare currently weighs in at over 200GB, leaving little capacity for anything else on a little disc. You can relocate some of your games to a secondary hard drive with greater capacity without re-downloading them. If you're prepared to give up some of those super-fast loading times.
Steam and EA's Origin, for example, offer built-in tools that allow you to move your games from one area to another. Others, like the Epic Games Store, require a bit more care when it comes to moving game files. On the most common launchers, here's how to accomplish it.
Ø
Steam: Add a New Library Folder
Most of your digital library is likely to be stored in steam, which luckily makes moving your games a breeze. Go to Steam > Settings in the upper-left corner of the main window, then to the Downloads tab in the sidebar. Choose any other folder on your system to utilize as an alternative install location by clicking the Steam Library Folders icon along the top, then clicking Add Library Folder.
When you go to install a new game. You'll be offered the option of selecting one of your pre-selected library directories. I keep the games I'm presently playing on my SSD, and the titles I want to revisit from time to time on my slower, spinning hard disc.
To relocate an installed game, right-click its name in Steam's library sidebar and select the Local Files option. When you click the Move Install Folder option, Steam will display a drop-down menu containing all of your previously selected library directories. Choose the one to which you wish to transfer the game, and then click the Move Folder option.
If the game's data take up a lot of space, this may take a while, but after it's done. Steam will run the game normally and without a hitch. If you have custom modifications loaded. You may need to perform a little more effort, but for the most part, it's that simple.
Ø
GOG Galaxy: Move the Folder and Reinstall
The GOG Galaxy aspires to be a one-stop shop for all of your game collections, but it also lets you download and install games from GOG.com. It doesn't allow by default to move those games to a separate folder of your own, but you can install games wherever you want. You can choose to install a new game in the manually selected place when you install it. We may also use this functionality to relocate games to different locations.
To relocate a game, go to GOG Galaxy's installation folder—the default is C:\Program Files (x86)\GOG Galaxy\Games—and right-click on the folder that contains the game you want to move. Cut and paste the folder to your new directory (for example, D:\Games\GOG) and wait for the files to copy over.
After that, open GOG Galaxy, right-click the game, and select Manage Installation > Uninstall from the menu. You will get an error message saying the game couldn't be uninstalled. But that's fine. To install the game, click it again, and when it asks where you want it installed, select the folder where the game files were copied (in our example, D:\Games\GOG). It will begin installing the game, and then recognize that the files are already present. And the installation will be completed fast, without the need to re-download the files.
Read more: Is Airpods Max Good For Gaming
Ø
EA Origin: Move the Game From the Origin Client
Origin includes a built-in "Move" button that makes this operation much easier—it eliminates the need to establish a new "library folder" beforehand. When you install a new game, you have the option of installing it in any folder on any disc.
To move an Origin game to a new folder, just right-click it in the Library window, select Move Game, and go to your new disc. You'll be able to view the progress in a File Explorer pop-up, and after it's finished. As You will be able to play the game as usual (except for the loading times, of course).
I hope to know you can transfer games from HDD to SSD. If yes kindly share this website with friends and family and keep visiting our website.