How to Change Your Mouse DPI in Windows 10
A dots-per-second indicator, often known as DPI, is used in computer mice. It is used to test the sensitivity of your mouse and to modify the speed of your mouse pointer by adjusting how many pixels per second it moves.
Understanding your DPI is very important while playing video games or running software that requires precise cursor placement. It also makes using widescreen monitors and numerous displays a lot simpler.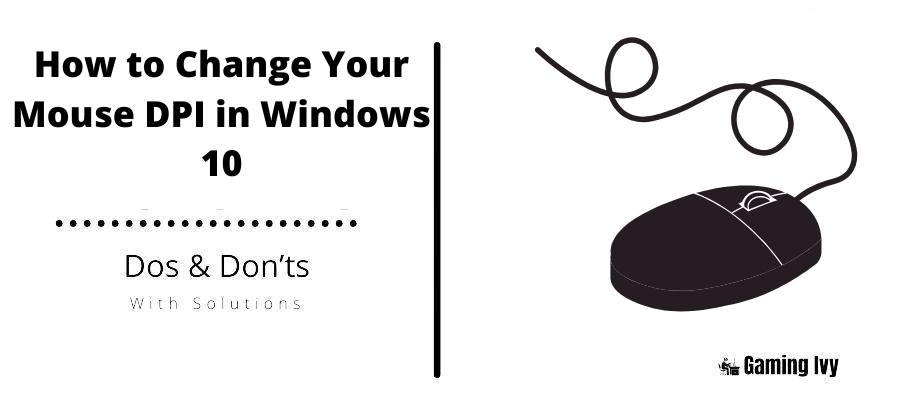 We will tell you how to change your mouse DPI in Windows 10?
What is the mouse DPI?
Dots Per Inch (DPI) is abbreviated from dots per inch. It's a ratio that shows how many pixels your mouse can travel in a single inch. If your mouse has a DPI of 1600, for example, dragging it one inch (2.54 cm) will shift the pointer 1600 pixels on the display.
The greater your mouse's DPI, the more responsive it is. Latest gaming mice, for instance, have DPIs of up to 20000. Although this may appear to be an inconvenience, many users who use big or numerous screens appreciate the ability to move the pointer more quickly.
Tip: Because our guidelines are simple to follow and don't require any prior Windows 10 expertise, anybody can do all of the procedures in this post. Don't forget to suggest us to anybody you know who is having problems with their system!
While the majority of people are unconcerned about DPI, it is crucial for video game players. Many people speculate about the ideal DPI level to shoot correctly in First Person Shooter (FPS) games.
You may modify your mouse DPI in a variety of methods, then check your current DPI to determine which level works best.
How to change your mouse DPI in Windows 10?
Many users desire to change their DPI level to increase or decrease sensitivity. You'll feel more at ease and be able to operate your gadget more efficiently. With optimal sensitivity, you can get more done and appreciate your gameplay even more.
Depending on the sort of mouse you have, adjusting your DPI is a different procedure. The left and right mouse buttons are generally the only buttons on an office mouse, but specialist gaming mice include anything from 4 to 8 buttons.
Here are some options for changing your DPI.
Method 1: Change mouse sensitivity in the Settings app
This technique works well with mice that don't have a specific DPI button. Fortunately, the Windows 10 makers didn't forget about individuals who use older computer mice, and they included an easy way to change mouse sensitivity for everyone.
Note: While you won't know the precise figure right away, you can figure it out using the methods outlined in the following section.
You may simply modify your DPI using the Settings tool.
To open the Start menu, click the Windows symbol in the bottom-left corner of your screen, then select "Settings." You may also use the keyboard shortcut key which is Windows + I.
Select the "Devices" tile.
Using the left-side panel, navigate to the "Mouse" tab.
At the bottom of the page or in the right-side panel, select the "Additional mouse options" link.
Using the Mouse Properties window's header menu, select the "Pointer Options" tab.
With the slider under 'Motion,' you may change the speed of your mouse. If you move the slider head to the left, your mouse will get slow, and if you move it to the right, your mouse will become faster.
We recommend disabling the "Enhance pointer accuracy" setting because it has the potential to screw up your DPI.
Then press the OK button. The difference in mouse speed should be seen right away.
Method 2: Adjust sensitivity in the video game itself
In many video games, you may modify your sensitivity while playing. This allows you to use your system normally with one DPI and then configure multiple sensitivity levels for different games.
While each game's setting is different, you can normally follow the instructions to identify where you may adjust the sensitivity of your in-game mouse.
Start the game in which you wish to alter your sensitivity and wait for it to completely load.
Find the option that reads "Options" or "Settings," which is generally accessible from the title screen.
You should be able to find a "Controls" menu somewhere. If this menu is absent, you won't be able to modify the mouse sensitivity from the game you just started.
Find the mouse sensitivity slider and tweak it till you're satisfied with the speed.
Method 3:Use the DPI changer button on your mouse
The majority of gaming mice feature a dedicated button for adjusting your DPI on the fly. You may change your DPI in any program by switching between presets, which may or may not be adjustable depending on your mouse.
Normally, the DPI button is found beneath the scrolling wheel. It's tiny in comparison to the other buttons, and it may even have the term "DPI" printed on it.
You may cycle between the default DPI settings by pushing the button once, and they steadily got higher and higher. Instead of cycling, some mice may have two buttons to raise or decrease the DPI.
Are you unsure which button controls your DPI? We recommend looking for your mouse's original box, which should include graphic labeling for each button. You may also go online and search the manufacturer's website for your model.
Conclusion:
We hope that this information proved helpful in adjusting your mouse DPI. Keep in mind that DPI is adaptable; you don't have to keep to a single setting; instead, assign various choices to different tasks.
If you learned a new thing about How to change the DPI of the Mouse in Windows 10? today, then please don't forget to share this article with others. If you have any questions or suggestions for us, please feel free to write them in the comment section down below.
Thanks