It's hard to draw a distinct lint between essential and not essential gaming devices. Some virtual gaming devices are always in collection for gaming. You need the best accessories for Xbox, PC, PS5, or other gaming consoles.
Low quality and cheap accessories have always been the headache of a gamer. Well-equipped and fastest gaming consoles is the need of every player. Having the best accessories for running, shooting, mission-based, or other gaming makes it comfortable for the player.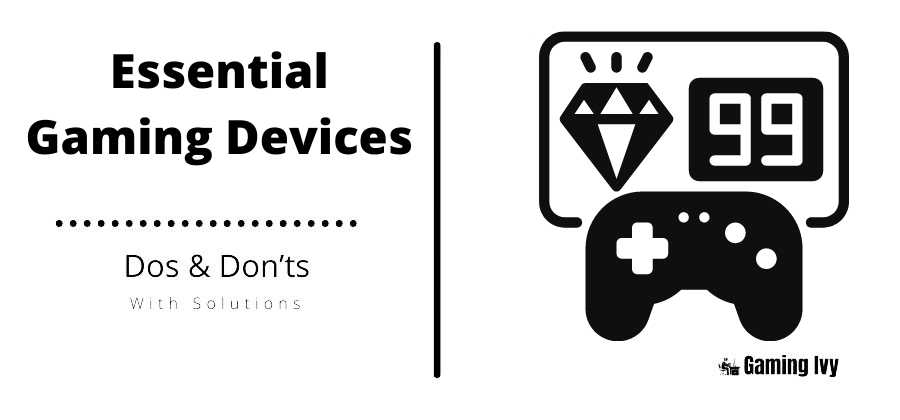 For a beginner or master of gaming, selecting compatible devices with gaming consoles is quite essential. The gaming market has multiple video gaming devices. We provide you with a proper guideline and list of crucial gaming devices that work smoothly during the game and make you comfortable for gaming. 
Essential Gaming devices list
Here is the list of virtual gaming devices that you need to buy.
High refresh display rate

Best microphone

Gaming keyboard

Gaming mouse

Handled consoles

Programmable RGB strips

Gamepad for pc

Hard drive

USB Charger

Gaming headphones
The detail of all these virtual gaming devices, along with proper function and working, is below. Mark all these devices and go to market or purchase online.
High Refresh Display Rate
Modern monitors or Led's have all the features necessary for comfortable gaming. High refresh is an essential feature of any display screen.
Higher-graphics level and smooth working without lagging make a high refresh rate outstanding. It not only improves your gaming skills but also enhances your screen focus with an eye-catching display.
The Asus MG279Q is the best seller but still has excellent features for gaming and call as the powerhouse of a monitor. The Asus MG279Q has a 1440p resolution and 144hz refresh display rate at a reasonable price. The only problem that Asus MG279Q has is the lack of HDR that mutes the colors.
The AOC gaming monitor has a high refresh rate, vivid display, and ultra-curved shape best for gaming.
Gaming Headphones
Gaming headphone is the virtual gaming devices on the list. Audio can make or break the gamer's experience. High-quality audio that makes it comfortable is only suitable for gaming—binaural audio- which converts audio into 3-D technology using gaming headphones.
The Razer Blackshark V2 is the best gaming headphone in the market. It is lightweight, having an integrated USB sound card and portable headphones.
Gaming keyboard
The gaming keyboards are on the top of the list of virtual gaming devices— Having a high-quality PC, you need to buy a high-quality gaming keyboard.
The Corsair Gaming K55 keyboard is faster and more compatible than any mechanical keyboard, having backlit with three color zones, ten separate zones, and a membrane key. It has six macro keys programmed for specific gaming actions.
Havit mechanical keyboards are the best choice for PC gamers. It has RGB lighting effects with 14 backlit modes.
Gaming Mouse
The gaming mouse and keyboard are coming under the same bundle. You can get both in pairs or buy the corsair gaming K55 mouses separately. The mouse has a rubber grip, and six social buttons are ergonomically counter, 6000 DPI, and incredibly responsive. The little mouse does not lag during heavy games.
Handled Consoles
Handled consoles provide you open opportunity to take your favorite game anywhere. A handled console allows you to play games from anywhere. If you are in your room with your loved ones, you can play it. The Nintendo Switch is the most popular handled console globally.
The Nintendo Switch is very versatile in features having a dock that allow you to play it on TV or take it anywhere. However, there are many issues with Nintendo. Although the company repaired all faults free of cost, now there is a significant cut due to pandemics.
Programmable RGB strips
Programmable strips also fall in virtual gaming devices for mood lighting to your PC. RGB lighting adds extra value to your favorite pc. RGB strips can display any spectrum of light that feel you relax. You can install it during the making of the PC.
Airgoo 4Pin RGB strip light set is the most popular RGB strip band in the market. They are compatible with Airgoo's magnetic strip for installation. The RGB strip light is entirely customizable and compatible with a wide range of sync software.
Gamepad for PC
A PC gamer's gamepad for a pc gamer is a virtual gaming device, and all the video games have the design for mouse and keyboard. Some games have especially structure for gamepad that competes with the traditional gaming setup.
The Astro C40 TR is the best gamepad for a pc. The gamepad is compatible with Windows, modular parts, a truly customized gamepad, especially for PlayStation 4.
Some other remarkable features that Astro C40 TR has controlled the sensitivity of buttons, audio equalizer, and integrated headphone jack. The gamepad is a beautiful and weird addition.
Hard Drive
A hard drive is the virtual gaming device for all monitors, high-end gaming consoles for optimum performance, and high-end gaming consoles. The Seagate game desktop hard drive is the most popular brand for a gaming pc.
The hard drive has 8TB space to store 200 plus games with two-front facing USB with 3.0 ports, making it perfect for video gaming.
Gaming performance depends on the hard drive storage and ports that are workable.
USB charger
USB chargers are essential for playing video games for a more extended period. Keep headset safe, devices charge, and desk must be clean for comfortable gaming. 3M adhesive tape needs to attach the USB with the PC for fast charging.
Best microphone
Get the crystal–clear audio with the best microphone for contacting the other teammate during games. The HyperX Quadcast gaming microphone Is the most popular in the gaming market. Just plug it with a USB charger and start talking with your partner.
Conclusion
List of essential gaming devices infinite. We try to tell you the best and most essential gaming devices that make your gaming console outstanding.
All these devices depend upon your budget and compatibility of PC, Xbox, or PS4. You are investing more money in accessories.
Gaming technology is changing with every second. You need to get in touch for the best gaming accessories, from the latest to the fastest technology.
Thanks.