Best RAM For Ryzen 9 5950x | All Important Covered
AMD has many processors out until now, some of them are best to work with one RAM and some are great with the others. But Ryzen 9 5950X is the most advanced and in-demand processor because of its power and speed. More succinctly, we can say that this is a beast in the form of a gaming processor. It was first announced by AMD in October 2020 and launched right next month. But people are often found asking which is the best RAM for Ryzen 9 5950X?
You may also be looking for this answer as you stumbled upon this article. But we have observed that the AMD's Ryzen 9 5950X has eaten at all Intel's processors like a beast. As we all know that AMD and Intel have always been head-to-head in this matter of producing the most powerful CPU the competitors.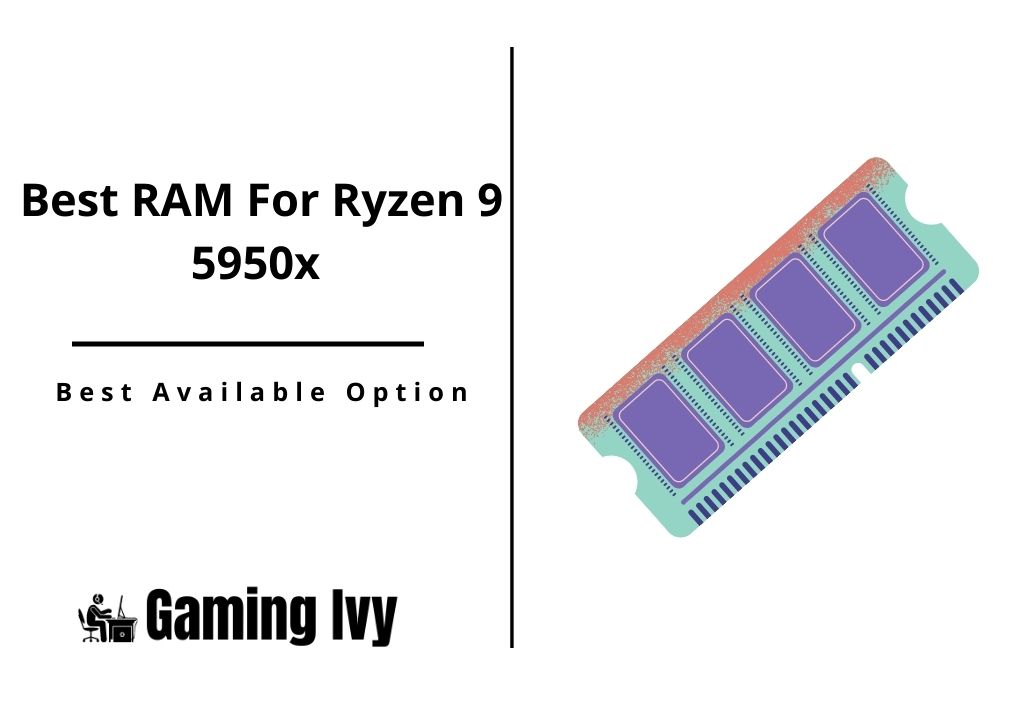 But also, we have to admit that Intel's Core i9 12900K processor and Ryzen 9 5950X have not been far from each other. Their performance was almost the same with a negligible difference.
Features of Best Ram for Ryzen 9 5950X
We all know that the AMD's Ryzen 5000 series was built on the Zen 3 model. It is still a huge improvement from its earlier version Zen 2. Because Zen 2 has two parts of the L3 memory cache of 16MB for 4 cores each, Zen 3 has provided 8 CPU Cores to an L3 memory cache of one large 32 MB.
And for sure, this is a huge improvement as we have seen that some games require more internal memory of the CPU to run fast. For example, a game that has a world map will save all the map data in that memory. This structure allows any core to access any form of data stored in the CPU's internal cache memory. It is easier and faster than having data travel all the way through the infinity fabric. Additionally, a perk that it contains is faster processing of the data and minimum possible latency.
Not just the memory cache changes, AMD has given a new software in this processor preinstalled. That software is advanced level technology called "SAM" Smart Access Memory. This SAM is made only available to the users if the Ryzen 5000 series processor is combined with the Radeon 6000 graphics card. This is because when Ryzen 5000 processor's memory is paired with the Radeon 6000 graphics card's memory, SAM decreases latency issues and buffers by using their memories.
Furthermore, there is a one-click solution to the hustle of overclocking, and it is named "Rage Mode".
Ryzen 9 5950x Specifications
Model: Ryzen 9 5950x
CPU Socket: AM4
Max CPU Boost Clock: 4.9 GHz
Base CPU Boost Clock: 3.4 GHz
Number of Cores: 16
Total PCIe Lanes: 24
Recommended Chipsets: B550, X570
L2 Cache: 8 MB
L3 Cache: 64 MB
Memory Support: DDR4
Process Technology: TSMC 7 nm
Max RAM Support: 128 GB
Official RAM Speed Support: 3200 MHz
Best RAM for Ryzen 9 5950X
Now that we have completed the introduction of the processor with its competitors and specifications all along. Let's take a look at some of the best RAM for Ryzen 9 5950X.
1. G. Skill Trident Z Neo Series 32 GB
Description
G. Skill Z Neo by Trident is specially made to satisfy the gaming needs of all the picky buyers at most. This trident series has 32GB (2×16 GB) memory with the manufacturer's announced speed of 3600MHz. We are sure that you will not feel anything working slower or stuttering even in the heavy processing.
A perk of this RAM is that it is aesthetically beautiful as Trident Z Neo has a tri-fin and two-face design like its other siblings. If we talk about its design, half of its heatsink is made of aluminum, is brushed finishing and the rest of half of it is decent silver that adds into that brushed finishing aggressive look.
Verdict
Overall, this RAM G. Skill Trident Z Neo is a 32 GB RAM which is a lot of storage and being a DDR4, it is the best RAM for Ryzen 9 5950X. Not only just its specifications are amazing, but also its tight timings, compatibility with this processor, and customization abilities are great. Great overclocking feature with a beautiful RGB lighting system. It is a great RAM both, performance-wise and beauty-wise.
---
2. G. Skill Trident Z Neo Series 64 GB
Description
Now you must have been thinking that we are the die-hard fan of either the Trident series or the entire G. Skill brand. But let us just tell you one thing, that we're not a fan of only one brand. It's just when G. Skill makes such great performance-oriented products, we can stop calling them great too. Like as we mentioned G. Skill Trident Z Neo 32 GB was a great RAM overall. But if you are a person who doesn't care about money but just wants to buy the best of the best. This product is the only 64 GB RAM that you should go for. Because it is the only (4 x 16 GB) RAM kit in the DDR4 generation.
If we look at its specifications, we will see that all of these specifications are available in the G. Skill Trident Z Neo 32 GB too. But the only difference for this RAM is that it is like installing two of 32 GB RAM in your computer at once. We all know that the AMD Ryzen processors love tight timings and RAM frequency very much which helps them in providing great performance. All these things considered; this RAM is the one to choose.
Verdict
We can conclude this RAM by saying it is the best RAM for Ryzen 9 5950X. This RAM has aesthetically beautiful RGB lights and design along with its features and tight timings. It is even better compatible with Ryzen 9 5950X as compared to any other RAM. Additionally, its 64 GB memory with DDR4 generation makes it a beast.
---
3. Corsair Vengeance RGB Pro 32 GB
Description
Having a white-colored PC and then looking for each component in white color but not giving up on the performance is a hassle. How many of you know the number of components available in white? We know that there are only a few of them. But what if you want to have the same performance from your white-colored RAM.As you may have expected from any other colored one.If one will be loose on the side of the timing, then the other one will have too less capacity. Well, it is obvious that nobody will want to spend money on something that's not worth it, right?
But what if a product is out there to serve the best way possible? Like this Corsair Vengeance RGB Pro 32 GBthat is a DDR4 RAM with pretty good CL 16 of timing and (2×16 GB) settings. Also, the frequency of this RAM is pretty well, like if not on the good side, then also not on the bad side.
This RAM's speed is a little bit on the slower side, especially when it's paired with the Ryzen 9 5950X. But don't worry, we can handle this problem by setting its timing a little bit tighter.
The Aluminium heat spreaders play an important role in this matter. They provide enough cooling for RAM to easily overclock it and set a little tighter timing.
Verdict
This is the only white-colored RAM that provides tight CAS timings and competitive performance and frequency to its users. Some enthusiasts and some pro-gamers have claimed that this RAM's CL timing increases up to 18 ns and even higher with the speed only at 2600MHz.
If we look at the current RAM of the speed of 3200 MHz and the CAS latency of 16 ns, we can conclude that this is a good 10 ns ranged RAM overall. But still, in white builds for computers, Corsair Vengeance RGB Pro 32 GB is the best RAM for Ryzen 9 5950X.
---
4. ThermalTake ToughRAM RGB DDR4 4600 MHz
Description
This is a RAM that only a few of you know about because it is a controversial RAM. The controversy about this RAM is that it is not an easy thing to swallow for most of the Ryzen processors. We all know that Ryzen processors work great with the RAMs that run synchronously without any problem with the FCLK or infinity fabric. It is a well-known fact that the Ryzen processors of the 3000 and 5000 series run the RAMs at a "double data rate". Make your RAM stable at 3600MHz if the infinity fabric speed is at 1800 MHz. If you use anything that is even faster than this speed, it may not boot at all, or show instability in its performance.
There is another possibility where you can overclock your infinity fabric from 1800 MHz to 1900 MHz. It will eventually make the RAM speed reach 3800 MHz. But anything more than that is not common at all because it will become possible for you only if you win a "silicon lottery". Therefore, when someone says they want to pair their 4000 MHz RAM with a Ryzen 3000, 5000 series processor or specifically this Ryzen 9 5950X, it is always in doubt. Just note that you will need to overclock your FCLK at 2300 MHz to run this RAM at a maximum of its frequency. Also, keeping it stable is another big challenge for even the most experienced ones.
Verdict
This RAM contains the massive 4600 MHz frequency with (2×8 GB) kit, making it one of the best performing RGB RAMs out there for Ryzen 9 5950X. Well, being very honest with you, this RAM is not for someone who'd just install this RAM on their PC and forget it. To get the best out of this RAM's potential, one may need to manually set its speed, timing, and frequency every time. But still, if you don't overclock nor do you underclock, being an expensive RAM, you should be sure to get a great performance overall. But looking at its specifications, even if it runs great with this processor, we still suggest you go for 32 GB or 64 GB by looking at its memory which is only 16 GB.
---
5. TeamGroup T-Force Xtreem ARGB 3600 MHz
Description
This is the great RAM design-wise we have ever seen in the market. This is because this RAM's ARGB lighting and two colors; blue and white make it look very aesthetically appealing even if you don't know about its performance. Additionally, it's heat spreader which also happens to be a light diffuser, thanks to TeamGroup, looks very stunning.
To be eligible to be on the list of the best RAMs in the market, this RAM has great timing that is 14-15-15-35. Being an overclocking RAM with CL16 and 3600 MHz makes it easier and smoother to overclock. An amazing fact is, that you can get to the frequency speed of 4000 MHz. This is only possible by keeping the latency at its original stock settings and increasing just a little output of it like taking it from 14.5V to 15V.
Taking everything into consideration, we can say that this RAM is by far the best RAM to pair with Ryzen 9 5950X. It increases the processor's performance exponentially. Remember, we told you earlier that AMD processors work great with the RAMs with tighter timings and higher capacities.
Verdict
If we talk about the overall usability of the RAM, it is one of the best RAMs according to its overclocking capacity. Also, has very tight timings to provide the greatest performance. All of this is not only with performance but also with great aesthetics as it has completely illuminated mirrors. At the very least, we recommend you buy this RAM to pair it with your Ryzen 9 5950X because it is no less than a beast.
---
6. Lexar Hades 32 GB RGB LED Lighting 3600 MHz
Description
Lexar is a well-known brand in the storage industry but now they are moving towards different things in their field. As you may know that Lexar has now stepped towards the memory side. They have launched their first memory kit named Lexar Hades 32 GB RGB LED Lighting 3600 MHz. This RAM kit provides decent speed, performance, and very beautiful aesthetics in one spot. That means you get a decent performance, beauty, and RGB lighting at a very affordable price.
Being the first product by the Lexar, they have not gone too far in making it the most stylish product ever. They rather preferred simplicity with class. Its heat spreader is made in a rectangular shape with a nice, brushed finishing. But we think it is classy because there's nothing to see on its heat spreader other than its "Lexar" logo. Furthermore, the beauty section of this kit is at the top of its heat spreader. Where the RGB light bar is installed, it lights up using your motherboard's software or its own Lexar RGB Sync software to control RGB lights.
Verdict
We can safely say that the Lexar Hades 32 GB RGB is one of the best budget-oriented RAM kits out there. Being the Lexar's first release, its price and capacities are amazing. Lexar is not the best of the best RAM kits out there. But still, it brings a lot of value to the table because of its specifications and performance considering its price. A 32 GB RAM could never have been this much affordable in the beginning but now possible thanks to Lexar. Also, it may not be the best but a great combo with Ryzen 9 5950X.
---
7. G.Skill Trident Z Royal Gold
Description
G. Skill has many variants that they released to retain their image on the market like their Neo version of the RAM. But there isn't only Neo in their collection, there is a huge part player in their Trident Z series which is Royal Gold.
The Royal Gold was one of the best RAM kits due to its style and appealing design combined with its flashy and beautiful RGB lights. And after its first hype in popularity, G. Skill introduced it as a performance master making bling up with its title deserving worth.
People have different opinions on its aesthetics because of its amazingly beautiful but at the same time, unique design. Some people find it attractive. While of them find it very unpleasant because of so many different reasons. But if you ask us this question, we are on the first group's side. This is because we are damn sure that you will get on our side too once you see the RAM in person. Its pristine finish is so clean and clear that you would want to wear gloves before holding it or installing it. Because you'd not want to see your fingerprints on it rather than its shine.
Verdict
Thinking about its performance, overclocking ability, and attractions, we can say that it is overall a good RAM to be paired with Ryzen 9 5950X. G. Skill Trident Z Royal Gold has everything that this processor may require. Considering the frequency of 3200 MHz, a little higher timing of 16-18-18-38. But don't worry, this processor still works well with it, and it can be overclocked to be compatible with any Ryzen processor as we told you earlier.
---
8. Patriot Viper Steel
Description
We enlisted this RAM in our list of the best RAM for Ryzen 9 5950X because we wanted to do something for those who don't like lighting or attractions on their PC. To those, it all looks like their computer looks like a Christmas tree the whole year and that's what triggers them to not install such RAMs. But mind you that by saying this, we don't mean that this RAM is not stylish or beautiful at all. Its aluminum heat spreader has an aggressive look in a mix of grey and black color.
Another benefit of this RAM not having RGB lights is that no RGB lights, so no RGB conflicts. And the modules of this kit are 45mm tall which means it is compatible with almost every kind of PC and their cases.
This RAM kit is a beast in its specs and that's why it is not for just the normal gamers. It is targeted towards the #-D animators, filmmakers, or anyone who is a creative content creator, and their work uses multiple cores of the computer.
Verdict
Patriot has produced many RAM kits, but this is the most compatible RAM kit with respect to its all-around performance. Its specifications are a lot more than what a gaming computer may require. So, it is suitable for content creators or editors, and live streamers because of the type of load put on the RAM.
---
Read More:
How did we test the best RAMs for Ryzen 9 5950X?
All the RAMs we have listed here are the best RAMs gone under our multiple exclusive benchmarks, especially the benchmarks we have set for gaming. We overclocked all of these RAMs and shortlisted the best performers out of all. Which were stable and working perfectly fine even at the tightest timings.
Final thoughts
If we are to conclude this debate and the list of the best RAMs for Ryzen 9 5950X, we would say that all AMD Ryzen processors have higher memory and higher frequency. But some RAMs can't handle higher frequencies when they're overclocked. So, it is important to read the specifications of each RAM carefully.
So, you don't waste your money on something scrap. But to name one out of all the above RAMs, we will suggest you get the G. Skill Trident Z Neo 32 GB if you want to get the best performance by keeping it a little on the budget side. But if you want to go for a RAM that is an extraordinary performer, then get the same RAM with 64 GB. Because 64GB is like you are getting two 32GB G. Skill Trident Z Neo RAMs but in one casing.
Another fact is that the 64 GB RAM is used most of the time by the content creators and the 3-D animators who require heavy background processing paired with their high-end GPUs.
So, choose wisely what you get.
If you liked this article, make sure to share this article with others, and please share your thoughts or queries in the comment section down below.