Top 10 Best RGB Motherboards To Buy In 2023
Every computer component holds a special place for its operation, and performance is the most critical aspect of every element. The motherboard, called the computer's brain, has a crucial role in the high-quality performance of a gaming console.
The people who love colorful lights for gaming significantly love RGB motherboards for an excellent gaming experience. For eye-catching visuals during the games, you need a processor that is highly compatible with the motherboard. You can select any processor like AMD or intel platform for gaming.
It would help if you had the best RGB motherboards that is highly durable, reliable, and highly compatible with the other components to avoid damage to the entire system. A good motherboard not only supports the PC's features for high-end performance but also boosts up the visuals inside your PC.
Today, we selected the best RGB motherboard that will make your gaming console attractive and fascinating in every aspect. We have gathered some RGB motherboards for Intel and AMD'S CPUs, which pack the latest chipsets. We provide a complete list of the best RGB motherboard ranging from budget to high-end categories.
All the selected RGB motherboards have top-notch performance and have remarkable speciation. You can pick any board as per your budget and gaming console requirement.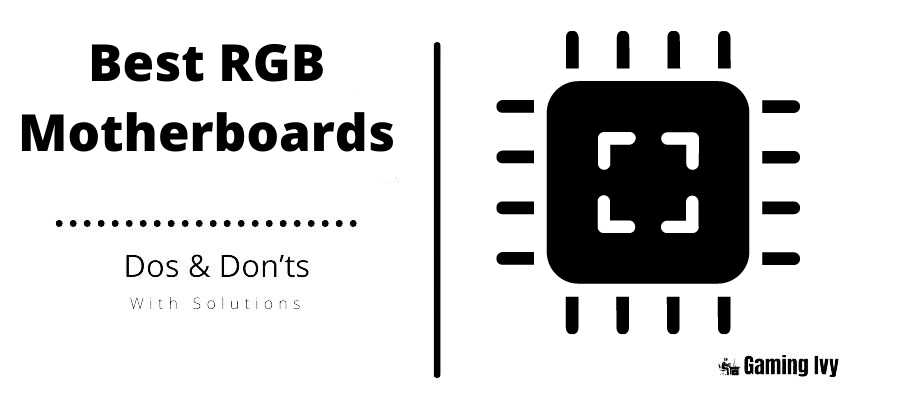 List of the Best RGB Motherboards in 2023
Our research team provides you with a complete list of the best RGB motherboards with excellent performance. The list is below.
MSI MPG Z590 Gaming Carbon – Best RGB motherboard for enthusiast
ASRock B550 Taichi – Best all-around pick
ASUS ROG Strix Z590-E gaming wi-fi – Best Performing RGB motherboard for Asus
Gigabyte X570 Aorus Xtreme
ASRock B450M Steel Legend – Best Cheapest RBG motherboard
Gigabyte B450 Aorus pro-wi-fi
ASUS ROG Maximus XIII Extreme
ASUS ROG Strix Z490-G
Gigabyte B550 Aorus Master RGB Motherboard
ASUS ROG Strix X570-I Gaming
Further detail with all speciation and related information is below. After reading the best RGB Motherboard article, you can easily buy the best RGB motherboard without any problem.
Best RGB Motherboards Reviews 2023
1. MSI MPG Z590 Gaming Carbon – Best RGB motherboard for enthusiast
The RGB motherboard stands out as it has a built-in liquid cooling capacity and two distinct RGB zones. The Carbon EK X is the perfect RGB motherboard because it provides the foundation for any high-performing build.
The primary RGB zone has impressive cooling effects that highlight liquid-cooled aspects of any build. The secondary zone is around the M.2 heat shield provides secondary cooling effects and protects the RGB motherboard from any thermal damage. Corsair's iCUE is one of the remarkable features that link the RGB control software.
The carbon EK X has ATX, the most common form factor used in the motherboard. It is much more compatible and able to mount with most board components. In addition, this RGB motherboard support 10th and 11th-generation intel core processor with a socket of LGA1200. The MSI MPG Z590 Gaming Carbon has 9 USB ports, SATA cables, a leak tester, and 3-way AMD crossfire technology.
Overall, the MSI MPG Z590 Gaming Carbon is excellent for water-cooling /enthusiast RGB and hardcore games.
---
2. ASRock B550 Taichi – Best all-around pick
The RGB motherboard has three distant areas for different components that perform remarkably impressive during heavy games. The logo at the top left, M.2 heatsinks slots, and LED strip for a wider-reaching effect. The ASRock polychrome software control all these three areas for optimum performance.
The ASRock RGB motherboard supports 3rd and 4th Gen AMD CPUs, making the motherboard perfect for future-proof, budget-friendly, and compatible motherboard. In terms of memory, it shows impressive features as it supports 3200 MHz DDR4 and standard 128 GB for high-speed gaming.
The board has M.2 slots allowing you plenty of storage for games and other programs, as it has three PCIe slots for connecting the graphic and expansion cards. The ASRock B550 Taichi has good-looking choices for RGB motherboards. The board's color scheme with the crisp-3 zones RGB lighting makes a captive impression.
---
3. ASUS ROG Strix Z590-E gaming wi-fi – Best Performing RGB motherboard for Asus
The ASUS ROG Strix Z590-E gaming design is sleek, solidly constructed, and perfect for hardcore games and heavy software. It has excellent features like several RGB LED elements that are highly compatible with high-performing games. The RGB areas of these boards are much more suitable than others available in the list.
On the other hand, RGB lighting delivers quality and immersive lighting experiences during gaming. The RGB motherboards are only compatible with ASUA Aura Sync for a unified effect with many impressive features. In addition, the board also supports the 10th and 11th generation intel core processors with high-end performance.
The highlighted feature of the board is supporting the DDR4 RAM slots with 128 GB of RAM and 5333 MHz speed. The board is only a single example of quality over quantity, as it is one of the best-performing intel motherboards.
---
4. Gigabyte X570 Aorus Xtreme
Gigabyte Aorus's series is one of the best series for optimum performance of the gaming desktop, laptops, and PCs. The X570 Xtreme has outstanding features like a sturdy motherboard, steel accents with fins, and excellent, bright LEDs on full Display.
The board has two quiet RGB zones, the first behind the accents of the backplate and the second one beneath the heatsink panel. The RGB motherboard control the RGB lighting in two different ways. Firstly, it can control directly, and secondly, Gigabyte RGB's software and RGB Fusion 2.0.
The X570 Xtreme uses an E-ATX motherboard, meaning that it is larger and constructed to dictate the multiple GPUs and supports more cooling for a powerful GPU. The massive VRMs solution and passively–cooled system offer extreme performance; that's the way the extreme gamer and overlockers love this RGG motherboard from all.
Consider your PC case before buying the X570 Xtreme RGB motherboard because its size is complex and needs more attention for fitting a larger motherboard. The board is only compatible with the second, third, and fourth-gen AMD processors. So, if you want to save money, step back to the previous version of the processor; a processor is the last step to save money. Furthermore, the board supports the fastest internet speed with an ethernet connection.
In terms of connectivity, the X570 Xtreme RGB motherboard holds up to 128 GB of 4400 MHZ RAM that supports speed and quantities of RAM. It has two M.2 slots allowing multiple fast SSDs and three PCL-E slots for your graphic and other expansion cards.
---
5. ASRock B450M Steel Legend – Best Cheapest RBG motherboard
The ASRock steel legends have a couple of excellent features vying for attention. The design is impressive, having minimal RGB elements, and steel heatsinks with metallic camo patterns across the body—the design work in tandem with compatible subtle RGB lighting.
There are two RGB areas on the motherboard, first on the frame for the back panel and second on the SSDs heatsinks. Both sections have a different function as per the components set.
The LEDs light control in two ways. It can directly control or with the ASRock polychrome Sync. The board has a MicroATX (sometimes called MATX) motherboard, with a smaller form factor for tower build. It is a shorter form factor than traditional ATX. The RGB motherboard is compatible with third-generation AMD processors that give better performance.
---
6. Gigabyte B450 Aorus pro-wi-fi – Best budget RGB motherboard
The minimal board has trademark steel fins supporting RGB LEDs components with a price tag. It also has two RGB zones for lighting—the Main LEDs in the upper left with the logo and chipsets heatsinks on the lower bottom side. In addition, the board has a thin strip that traces the extreme left edge of the motherboard.
The RGB board has RGB fusion 2.0 for controlling the adjustment of colors and effects. The board is only compatible with the last three-generation, not the latest AMD CPUs. The motherboard has 128 GB of 3600 MHz RAM for high-level performance in terms of memory. Furthermore, it has two M.2 slots for fast SSDs for high-end performance.
The Gigabyte B450 Aorus pro-wi-fi is a popular budget-friendly RGB motherboard with decent features and an accessible price tag.
---
7. ASUS ROG Maximus XIII Extreme
This is a great choice for those who have all the powerful components for their gaming PC and want to plug it into a motherboard without thinking about it twice. This motherboard gives one functionality outstanding that is, powerful gaming. Though it looks very simple and big, its features are also very great.
As you know its size is bigger than the others, so it has a lot of room for LED lights and a well-lit logo at the back. Its back side of the edges creates a halo vision that looks incredible. There are a lot more configurations of the LEDs that take up to the top level.
There are three zones in ASUS as you may have guessed by now, and all of them can be synchronized to the white RGB motherboard by ASUS's software. But if you didn't get all your components from ASUS, then you can use any of the third-party software to sync them accordingly.
This ASUS ROG Maximus VIII Extreme is a wider EATX motherboard than the other ATX motherboards. It gives extra 2.5 inches to place the heat sinks and extra cooling systems on it. That is why it is better for good performance and overclocking the system.
Its lighting is made with good quality material and added RGB backlighting system is also on board.
---
8. ASUS ROG Strix Z490-G
This motherboard has 10th generation Intel Core processors with a good cooling system and boosted power delivery. Intel Core processors are very heavy-duty processors and that's why the built-in ROG software helps you get the most out of it. ASUS ROG Strix Z490-G
is capable of handling the overclocking, efficient cooling, and network settings very easily due to its high performance. Its 128GB of memory lets you take the advantage of using it to the fullest with over-the-top performance. Its high capacity of fast transfer of data, good connectivity strength, and very smooth and lag-free online user experience is very useful to all the gamers out there. Top-quality audio sounds that can help you a lot in hearing the lightest and subtlest of the sounds very easily. You can beat anyone with these features and qualities of this motherboard.
---
9. Gigabyte B550 Aorus Master RGB Motherboard
Many of the Gigabyte's Auros brand's motherboards are eligible to make it to our top motherboards list. Here is Gigabyte B550 Aorus Master RGB Motherboard, that made it to our list. This motherboard is, as talked in the specifications detail, specially made for AMD Ryzen 3rd generation processors.
It delivers good power due to it being equipped with 16 phases of VRM solutions. Its dual-channel unbuffered DDR4 RAM makes it very high in performance and speed having a 52MHz frequency speed. On top of everything, this specific motherboard has a very efficient heat dissipation system consisting of the fins-array heat sink, direct touch Heatpipe, and thermal base plate that all work very efficiently, and due to that, this product has another plus point over others.
Let's see what else this motherboard has for us. It has a 3.2 Type-C USB port also an HDMI port already has a 2.5Gb LAN along with its bandwidth management system. Its Wi-Fi 6 version provides additional connectivity wirelessly. This motherboard is compatible with the windows 10 64-bit operating system but unfortunately, they haven't launched a motherboard compatible with the latest version of windows which is windows 11.
---
10. ASUS ROG Strix X570-I Gaming
ASUS ROG makes smaller motherboards for special reasons. This model of gaming RGB motherboard is a lot cheaper than what you may expect from a motherboard like this. It is more fun to use it due to its compact size because then you can install more devices and equipment on it easily. This model being so much of it, still holds itself as a fashion trend of a powerful and attractive gaming build.
Coming to its RGB lightings, it has two sections of the lightings on it. One is at it heatsink logo that is lit, and the second one is at the back edge of it and that casts an illuminated throw on your entire PC, even if you don't attach anymore external RGB lights or other components.
You can manage and control the LEDs through the motherboard's RGB software or Aura Sync Software of ASUS or you can use the controls on top of the motherboard. A new user won't easily notice anything much happening in this area but you as an owner of this product should know and notice every little detail that the quality and brightness of the LEDs is great. Also, when you install any other components regarding RGB on this motherboard, it will work well with them too.
When we talk about its internet capacity, this motherboard supports up to 1 Gbps of internet speed with Wi-Fi or Local Area Network (LAN).
---
Things to take care of while buying the best RGB motherboards
Selecting the best RGB motherboard for a PC building is quite a headache, and you must have sufficient knowledge for a wise selection. We provide a proper buying guideline for buying the best RGB motherboards.
Motherboards have been getting selected for years. And till now people who don't know much about gaming or technology select them by looking at their processing speed.
But there are a lot more important features and specifications that you should look for in a motherboard before buying one. Such as heat dissipation, RGB customization, expansion slots, etc.
Expansion Slots
An expansion slot is something that has an expanding tray in the slot and when you press the expansion button or slot itself on the motherboard, the tray comes out and you have to insert a card that expands the ability of some function in the motherboard. This card can be of anything such as a video card, audio card, network card, some modern graphic cards and the list of cards goes on. But if we talk about the most common expansion slot that also supports every type of expansion card is PCI Express slot.
If you are a gamer and you have a gaming PC, then your computer must have that PCI express of x16 slots. Expansion cards are of different kinds, one is standard size, and one is small that are mostly used. Hence, most of the motherboards have two kinds of expansion slots to support both kinds of expansion cards: small and standard.
SATA
SATA stands for serial advanced technology attachment. This means that where the expansion slots provide the added ability to increase the functionality of some specific features of the motherboard, SATA ports allow us to add more storage drives, optical drives, and any kind of other drives for added performance and abilities.
For example, if we talk about the storage drives, they can be of two types. One is SSD and other one is HDD. SSD stands for solid-state drives and HDD stands for hard disk drives. They both have different functionalities hence they require dedicated ports to be attached. But SATA port goes well with both of them easily.
This is why having more SATA ports means the increased ability to add more devices to your computer. Be careful and see what type of SATA ports are available on your motherboard. This is due to the fact that the latest version of the ports that is, SATA 3.0 provides benefits of faster transfer rate and quick connectivity with additions.
Connectivity Options
You, using a computer may know already that most of the computer components and added functionality devices and ports are always connected to the computer's motherboards. Hence, there should be a lot of different options for connectivity to the motherboard in the form of ports and methods. A good computer motherboard should contain every type of connectivity option as well as method for different and versatile connectivity options. If you got confused, the examples are HDMI ports, ethernet cable ports, and USB ports, etc.
Heat Dissipation System
When a motherboard is working at its full capacity, for example when we play heavy-duty games, edit videos, create content, and animate things on our motherboard, it gets overheated very easily. And this overheating normally leads the computer system to malfunction or complete system failure.
This is a huge problem in all motherboards, but old ones are affected more by this because the new ones are coming with a proper heat sink for easy extra heat dissipation. The latest models of motherboards come with fans and additional accessories for efficient heat dissipation with cool and effective designs for keeping the system cool.
RGB Lighting Customization
These days there is a trend of RGB lighting on the motherboards. We know that the beauty or attraction of the motherboard does not make it work better or extraordinary. But still, the added eye-catching design and colorful environment make your mood for gaming or whatever and looks cool as well. Also, all the above RGB motherboards are incomplete with these aesthetically beautiful designs and looks.
These RGB motherboards even have changed the design and trends of the CPU cases. This is because now manufacturers know that people want to see the beautiful inside of the PC case after investing so much in its looks. That's why they have started to make the side panels of the PC case completely blank and transparent so that people can enjoy that lively environment.
The number of RGB lightings, their number of colours, and their patterns can be different from one model to the other depending upon the company and type of the lighting. There are some models available on the market that allow the users to manually select and change the colors and their patterns according to their own choices. But those models are very expensive.
Warranty
Warranty is something that everyone knows and wants to get the longest of time so that they can go to somebody if something goes wrong with their purchase. So, you need to be very careful before buying not just the motherboard, in fact, any product that you should select the one that gives the longest period of warranty. This discloses the brand's credibility in front of us and how good is this brand's product.
There are different ways to ensure a warranty. Sometimes you get the warranty printed on the product's information page. But this is not the case always, as some stores give a warranty card with their products on their own behalf that if something goes wrong with the product, they are the ones to fix that problem.
There is a third method becoming very useful and popular these days. You go to the store, buy the product, and update the information of the product on their official website yourself. This way, you can get the transparent results of when the warranty will start, how will it not work and how will it work? Every little detail about the product and its warranty will be there for your assistance.
Size
The latest RGB motherboard is available in three different sizes. The ATX offers common storage space, while Micro-ATX and Mini-ITX offer comparatively less storage and expansion space.
The number of ports
Check the motherboard's IO and USB header area for external connection. These allow the gamer to add extra ports for data transfer across the network.
The number of RAM ports
The latest RGB motherboard has four slots, the Mini-ITX unit has only two spaces, and high-level HEDT boards have eight different ports for connectivity. The number in the RGB motherboard bound the quantity of RAM for a user. So, pay attention to the number of RAM ports per your requirement.
Budget
Before making any choice of buying, take a look at your budget. Several RGB motherboards are available in the market that belongs to best-seller brands. Some are highly expensive, but some have an average price.
What motherboard has the best RGB?
All the other motherboards we listed in this compilation are also the best ones out of many out there on the market. But since we have to tell you the best; it is Asus ROG Strix Z490-E. This is called the best overall Intel RGB motherboard.
What motherboards support RGB?
There are a lot of motherboards on the market that support RGB lights but to answer this simple yet important question; all the motherboards that we have listed here support RGB lightings for sure.
Are all motherboard RGB compatible?
No, all motherboards are not compatible with RGB. In fact, some of them that are compatible, cannot all control the RGB fans themselves. There needs to be an external controller for the fans in some models.
Can I use RGB without a header?
Yes, you can add RGB to a motherboard with an RGB header or without any RGB headers even if it's not an RGB-compatible motherboard. But if you add them to a non-compatible motherboard, the RGB then works like the fans and sometimes they demand external controllers and software to control them.
Can you add RGB to a motherboard?
Yes, you can add RGB to a normal motherboard. It is not a difficult thing if you have just a hint of the technology and its usage. Also, if motherboard not compatible to control the RGB, you can use any third-party software or external controller to control the entire RGB header.
Read More
Conclusion
We have rounded up the top eleven RGB motherboards for your PC build. All the motherboards belong to some of the top and well-known brands that don't compromise on quality and performance. Some RGB motherboards belong to Intel, and some belong to AMD. So, make a wise decision to select the best RGB motherboards.
If you are an extreme and passionate gamer, we suggest you buy MSI MPG Z590 Carbon EK X for high-end performance. All the remaining RGB motherboards also show outstanding performance as per specification. For example, the cheapest motherboard with an RGB header is the Cheapest Z490 RGB Motherboard: ASUS Prime Z490-A.
If you liked this article and found anything valuable in it, please consider it sharing with others. Otherwise, comment your suggestions, questions, and confusions down in the box. Have a good one.