Best Palm Grip Gaming Mice
You may be a skilled gamer who knows everything there is to know about the finest and best palm grip gaming mouse. However, if you aren't a good gamer and are searching for some guidance, this post is for you.
Read the descriptions to learn about the benefits and drawbacks of various palm grip mice from different manufacturers. We hope that the information in this article will assist you in making an educated decision.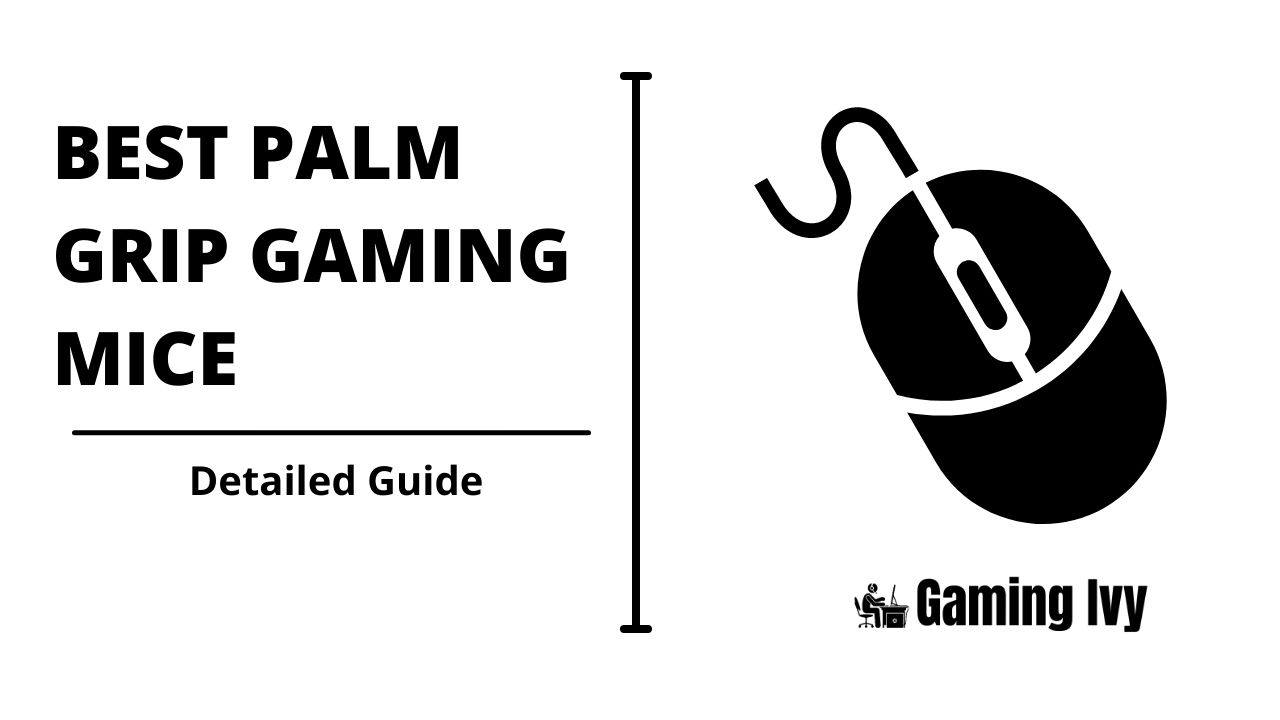 To choose the ideal mouse for you, consider the size of your hand and the style of grip you use: claw palm, or fingertip. The fingertip grasp provides the most control, but it is also the most exhausting. The claw grip is a combination of both the finger and palm grips. The palm grip is the most frequent and most comfortable for most individuals.
Best Palm Grip Gaming Mice
In this post, we reviewed 5 palm grip gaming mouse models. Below you will discover a summary of the benefits and drawbacks of the best palm grip mouse, as well as some advice and recommendations.
1). CORSAIR IRONCLAW
The Corsair Ironclaw is an excellent gaming mouse that provides excellent performance at a reasonable price. It is a palm grip mouse that is also suitable for people with large hands. The model is intended to meet the demands of serious players.
The mouse's sensitivity may be readily changed between 100 and 18000 DPI. Despite the fact that the sensitivity is quite high, it had no effect on the pricing, which remained relatively reasonable.
The mouse's maximum responsiveness is ensured with a polling rate of 1000Hz. Remember that the Corsair Ironclaw is ready to provide you with a fresh and enhanced gaming experience that is free of lags and failures. The mouse is functional and comfortable, with a plethora of excellent functions and a reasonable price.
When it comes to disadvantages, we must highlight the device's short battery life and unusual charging scheme.
Specifications:
DPI: 18000
Interface: Wireless
Buttons: 7
Ergonomic: Right-handed
Pros:
Solid build
Precise tracking
Comfortable grip
For big palms
Cons:
Poor placement of LED
Battery life and charging
2). Logitech G403 Hero
The Logitech G403 Hero gaming mouse has a polling rate of 1000Hz. Because of the high-quality HERO 16K optical sensor, it has a flawless track on any material.
You will be able to modify the sensitivity of the 100-16000 DPI as well as the RGB lights. This palm grip gaming mouse features an ergonomic design and rubber gripping, making it incredibly pleasant to use. To configure the features of the G HUB gaming platform, use the 6 accessible buttons.
Another wonderful feature of the G403 is the detachable weight, which allows you to alter the balance of the mouse and make it heavier. Logitech G403 Hero is one of the best devices that are known for its comfortable and functional palm grip and excellent wireless performance.
Specifications:
DPI:16000
Interface:Wired
Buttons:6
Ergonomic:Right-handed
Pros:
Comfortable grip
Excellent reliability
Great wireless performance
Good price
Cons:
Derivative design
Disappointing thumb buttons
3). SteelSeries Rival 310
The SteelSeries Rival 310 is an excellent option that may be regarded as one of the finest palm grip mice on the market. The mouse is ultra-lightweight, has the most recent sensor, and has changeable RGB lights. Unfortunately, you will not be able to change the weight.
However, if this function is not important to you, the Rival 310 is an excellent gaming mouse that provides excellent performance at a reasonable price. Another aspect that may disappoint you is the DPI range, which is just 100-12000. It is less than some competitors provide, but more than the ordinary user will ever require.
Nonetheless, it is the greatest palm grip gaming mouse, with a flawless pad and a comfortable feel in the hand.
Specifications:
DPI: 12000
Interface: Wired
Buttons: 6
Ergonomic: Right-handed
Pros:
Excellent optical sensor
Lightweight and ergonomic design
Angle snapping, acceleration, and deceleration
Materials that are solid
Cons:
DPI settings are limited.
There is no lift-distance control.
4). Razer Mamba
The Razer Mamba is a good gaming mouse with a stylish ergonomic build. This mouse is 4.95 x 2.75 x 1.70 inches, which is rather large.
Right-handed users will like this palm grip gaming mouse's ergonomic design, which has textured rubber grips on both sides for added comfort and to keep your hand where it should be. The Razer Mamba's form and design allow you to use it not just with the palm grip but also with the claw grip.
Despite all of its amazing qualities, the mouse has one flaw that may detract from the overall experience. The application is not sufficiently dependable. Though it is an improvement over the prior edition, it is still far from flawless. It has delays and might behave erratically.
Furthermore, the assistant may be unable to resolve your problem. The program works well on most PCs, although there may be some surprises.
Specifications:
DPI:16000
Interface:Wireless
Buttons:7
Ergonomic:Right-handed
Pros:
Long battery life (50 hours)
High-quality sensor
Rubber grips on the sides provide a secure hold.
Solid build
Cons:
Soft clicks
You can't use Razer software unless you have an account.
5). Logitech G502 SE Hero
The Logitech G502 SE Hero is a high-quality gaming gadget with several appealing features that might be called the finest palm grip mouse. It is wired, well-built, stylish, and comfortable in the hand. If your hands are bigger, you may want to consider a bigger mouse.
The buttons may be configured to meet your specific requirements. The CPI may also be controlled. A mouse's weight may be adjusted, making it comfortable for a wide variety of players.
This model is based on the G502 Proteus Spectrum. However, it features a number of enhancements that set the G502 SE Hero apart. The 16000 DPI optical sensor is the most crucial since it is very sensitive and has one of the finest values on the market.
Most users, however, will not require such high sensitivity, therefore set the mouse to 10000 DPI or lower. 16000 DPI is a very high sensitivity standard that will make your gaming experience really unique.
Specifications:
DPI:16000
Interface:Wireless
Buttons:11
Ergonomic:Right-handed
Pros:
Great sensor
Programmable buttons
Adjustable weights
Smart placement of LEDs
Cons:
DPI indicators turn off quickly
Disappointing side grips
Designed for small hands
Final Remarks
This is a list of the best palm grip gaming mice, that we have compiled through very deep gaming market research. And we found that there are many other gaming mice too which perform great as well. But the winning mice made it to our list of the best of the best gaming mice in the gaming world.
If you learned a new thing today, then please don't forget to share this article with others and keep visiting our website. If you have any questions or suggestions for us, please feel free to write it in the comment section down below.
Thanks